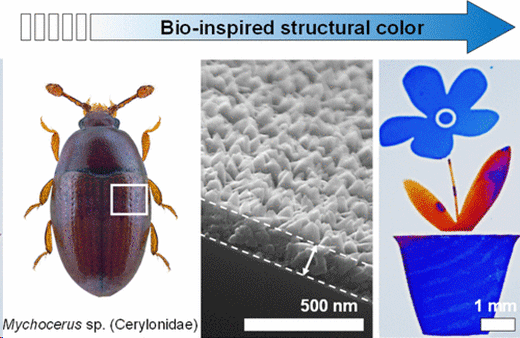 Creating colors by copying beetle nanostructures could find applications in dyes, inks and sensors.

Image: American Chemical Society



The shells, or exoskeletons, of beetles are covered with stacks of crystalline-like shapes that scatter light and produce dazzling colors. In some cases, these colors can change with just a slight shift of the viewing angle. Known as structural colors, scientists have long been interested in replicating them for use in paints, dyes, cosmetics and other products.

But unlike many pigments, structural colors are eco-friendly and resist fading. Current techniques used to integrate structural colors into materials are time-consuming and costly, however. And once they are attached to a surface, it is hard to modify them. Geon Hwee Kim, Taechang An and Geunbae Lim sought to overcome these challenges.

The researchers used a process called hydrothermal growth to synthesize zinc oxide nanostructures in 40 to 80 degree Celsius water. This technique produced the tiny particles quickly and easily.

The method also allowed them to better control the size and spacing of the nanostructures, a key step toward being able to adjust colors as needed within a material or fabric.

The researchers conclude that this new technique could have broad applications including the fabrication of microelectrodes for use in sensors.

American Chemical Society. Posted: Jun 14, 2017.