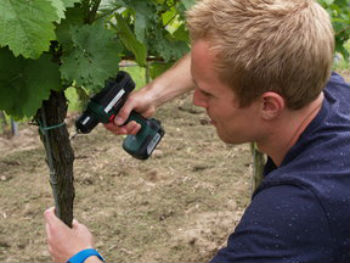 Doctoral student Sebastian Beckers drills the vines to inject the remedy.

Credits: Max Planck Society



The shell of these balls is made of lignin - a substance that is the main component of wood besides cellulose. Therefore, this shell can also be decomposed by the fungus, thus releasing the agent inside the nanoparticle. "It is almost like a Trojan Horse: the fungus decomposes the shell of our nanocarriers and releases the fungicide that fights it", says Wurm. One of the main advantages of the method of the scientists is that the agent is delivered slowly and over a long period of time.


Scientists fight fungal disease on vines with nanotechnology

After successful initial trials, more than 100 grapevines have now been treated by the interdisciplinary research team on a vineyard of the DLR in Neustadt a.d. Weinstrasse, Germany. Within several hours, they drilled holes into the trunks and inserted small tanks containing the agent. Scientists can expect initial results within a few weeks, but the plants will be observed for several years.

The project is carried out together with the "Institute for Biotechnology and Drug Research" (Kaiserslautern, Germany), and the "Dienstleistungszentrum Ländlicher Raum Rheinpfalz, Institut für Pflanzenschutz" (Neustadt a.d. Weinstrasse).

The technology has already been patented by Wurm and colleagues.

Max Planck Society. Posted: May 30, 2018.