NOVIDADES
Adidas sold 1 million pairs of shoes made from ocean plastic last year.


The CEO of Adidas, Kasper Rorsted, told CNBC last month that, in 2017, the company sold one million pairs of running shoes made with ocean plastic waste. This is great news for an industry that has long been trying to incorporate waste into its fabric, but has taken a while to reach a viable scale of production.
Adidas designed its shoes alongside Parley with the Oceans, an initiative that strives to bring awareness of the ocean plastic problem to stakeholders and collaborate on projects that can improve the situation. Writing for Triple Pundit last year, Leon Kaye explained Adidas' goal:"Adidas says its work with Parley rests on a three-point strategy: avoid the use of virgin plastic, gather plastic waste from the environment when possible, and redesign footwear and apparel so that it is both sustainable and performs better."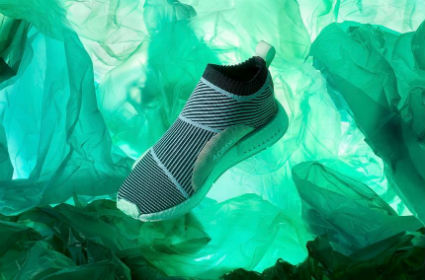 © Parley with the Oceans - The men's shoe by Adidas, made with recycled ocean plastic.


The latest version of the men's shoe, just released on March 31, is called the NMD_CSI Parley Primeknit Shoe and features a sock-like upper and an "ultra-responsive, energy-returning Boost" sole. The women's shoes feature laces and come in a variety of colors.
You can see a full list of Parley plastic-containing products here. Each shoe uses 11 bottles' worth of recycled plastic, and uses recycled PET in the laces, heel webbing, lining, and sock liners.
Adidas started with a concept shoe in 2015 that made headlines, including ours here at TreeHugger. It was made with illegal fishing nets confiscated by the Sea Shepherd conservation group from a poaching vessel off the coast of West Africa. In 2016, Adidas ramped up production and made 7,000 pairs of recycled plastic shoes. This was met with success and the 1-million target was set for 2017. All have sold, and sales of the latest models are limited to one pair per customer.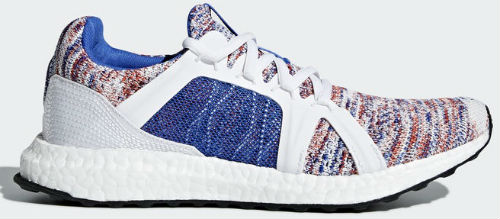 © Adidas - Women's Ultraboost Parley Shoe in blue.

It's great to see ocean plastic being used in practical ways; everyone needs running shoes at some point in their life, and these meet the usual requirements for quality and performance. Kaye writes: "The company says its recycled plastic shoes are lightweight – and are designed to withstand the demands of athletics while providing the necessary cushioning needed for joints, arches and the Achilles heel."
By Khaterine Martinko. Treehugger. Posted: April 4, 2018.



Assuntos Conexos:
Oceanos em 2050 vão ter mais plástico do que peixes, alerta Fórum de Davos.


Nanoplásticos: próximo flagelo dos oceanos?